Since the day I marketed my first IR website in 2000, I've been a staunch evangelist for the product. It's a hellava smart and simple marketing tool that combines superb, reliable content with a professional presentation of your financial brand. It's your transparency library.
But I am a tad bias. (Material disclosure: I am paid to love them.) Thus the genesis of our Shareholder Communications 365 Study.

"Hey…we should ask investors what they think."
Now in its fifth year, this exclusive study asks investors 30 tactical questions regarding how they consume your shareholder communications content. Beyond the IR website, we asked about earnings calls, annual reports, news releases and overall transparency. From these tactical answers, IR teams can sculpt their shareholder communications efforts and budget.
Since 2012, the study has evolved. Initially, it was predominantly retail investor-based. In 2016 we added a Wall Street v Main Street comparison (CLICK HERE). This year, per client discussions, we cut to the chase: 3,780 responses from 100% institutional investors.
Question #1: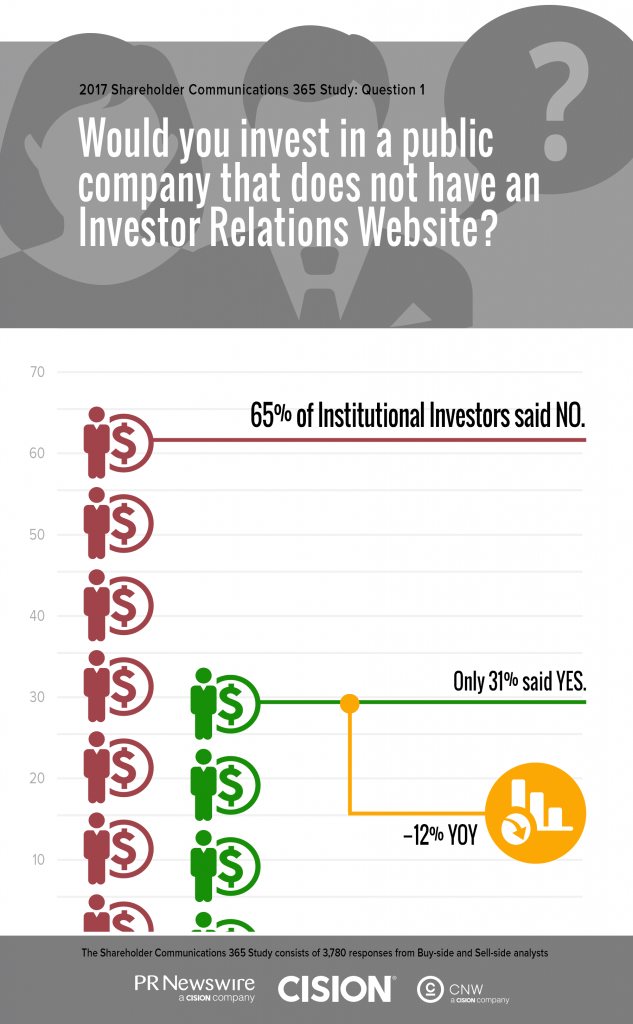 Historically, this question always receives a wide variety of comments:
Communication with the investment community is an essential component of a well-managed public company.
Companies have to have an investor relations section on the company website to consider investment.
Depends on how well I otherwise know the company and the information the company makes public.
Depends upon information obtained from other reputable sources.
Generally no, but if I have knowledge of the company and other reliable source of info I might consider the company.
I do not look at IR websites when I look at companies to invest in.
Investors have to invest using their own due diligence and not rely on the spin the PR departments spew out to shareholders.
I probably would if the company met my investment requirements.
I think all my companies now have websites. It would be an unusual situation to invest in a company that tells no story.
If I am very certain about the quality of the company fundamentals.
If just a startup but with a web presence under construction, perhaps; more mature business, no.
IR websites are largely irrelevant to making an investment decision.
Maybe, depending on what other "reliable" information is available.
Not likely, depends on what access to management I would otherwise have.
Only if I was investing on technical criteria and not on the story.
They are not serious without a site.
Interestingly, as well as a little surprising, 1/3 of analysts don't view the IR website as a deal-breaker.
The strongest strategic take-away I have made from this is the IR website is not quite the power tool I always imagined: the key data is very redundant on Bloomberg terminals, etc.
From our inside viewpoint, another factor is the how IR websites are managed today (compared to 2000). Then, they were manually built, pixel-by-pixel, needing very expensive, inflexible and hard-to-find datafeeds. It was work for everybody involved.
Today, the ubiquitous and low-cost of stock data, the ease of HTML5, the backbone of broadband and even the using a company's own XBRL have eliminated the IROs burden to micromanage their site (and frankly, made our job easier too). Except for during earnings period, most IR websites sit in a very passive set-and-forget mode… allowing IR teams to concentrate strategies on active tasks like targeting and improving their shareholder narrative.
PR Newswire hosts over 780 IR and PR websites for clients.
So, now Question #2.
Author Bradley H. Smith, a self-confessed connoisseur of IR websites, is Director of Marketing and Shareholder Communications at PR Newswire / Cision.
www.prnewswire.com/blog/do-investors-insist-that-you-have-an-ir-website-20623.html